Etymology
Genus
An anti-depression (Nepenthe) used by Helen of Troy on her guests in Greek mythology
Species
after Sir Thomas Stamford Raffles
Family
Nepenthaceae
Synonyms
-
Common Names
Raffles' Pitcher Plant
Status
Native: Vulnerable
Form
Herbaceous or woody climber, or herb
Native Distribution
Peninsular Malaysia, Sumatra, and Borneo
Diagnostics:
Vegetatively, the leaves are shortly winged to the stem like Nepenthes ampullaria. However, unlike other Nepenthes species found in Singapore, it has a long distinct petiole. The pitchers are also the largest, and almost always speckled with maroon colour. The lips of the pitchers are also swollen and "ribbed" with lines of maroon.
Interesting Facts:
This is a relatively common pitcher plant found in degraded secondary forests, and rocky cliffs facing the sea. However, more pitchers are present when the plant is exposed in the sunlight than shade (Chang et al., 1997). The upper pitcher are funnel shaped, while the lower pitchers are egg-shaped.

It can be found in the mainland in and around the forests of Kent Ridge Park, Bukit Timah Nature Reserve, Labrador Park, Central Catchment Nature Reserve, and the Western Catchment area (Chan et al., 1997). It was also documented in many offshore islands, including Pulau Tekong, Pulau Tekukor, Sentosa, St. John's Island, Lazarus Island, and Big Sister's Island.

An interesting study by Grafe et al. (2011) showed that in Borneo, the Hardwicke's Wolly Bats (Kerivoula hardwickii hardwickii) actually sleep within the upper pitcher of a subspecies of the Raffles' Pitcher Plant during the day! The faeces of the bats deposited into the pitchers' digestive fluid is sequestered and provide the necessary nutrients for plant growth.

Together with Nepenthes ampullaria, N. rafflesiana was first discovered in Singapore by Dr William Jack in 1819, the doctor who accompanied Sir Thomas Stamford Raffles in his travels.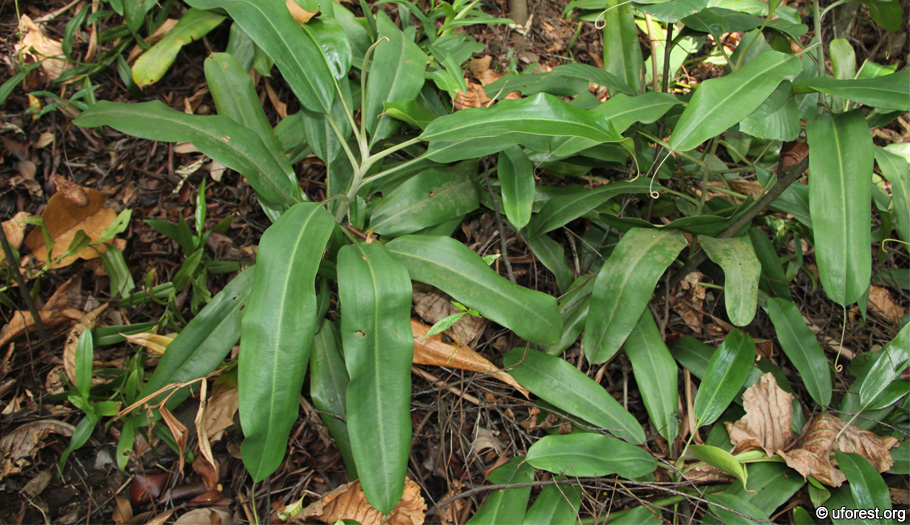 Habit of the Raffles' Pitcher Plant as a herb.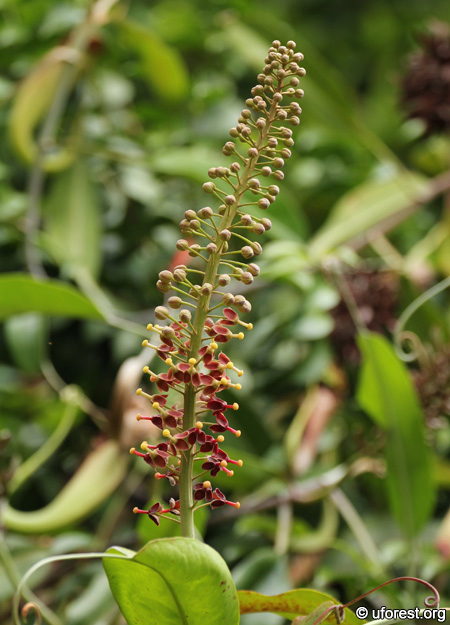 Male inflorescence.
Upper pitchers. Note its funnel shape.
The lower pitcher.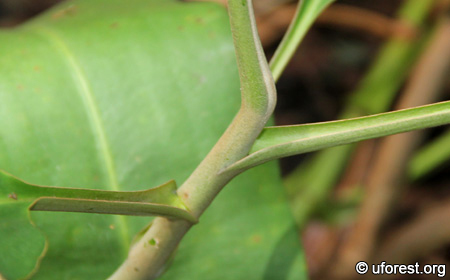 Long distinct petiole which extends a little onto the stem.
The younger leaves are often glossy.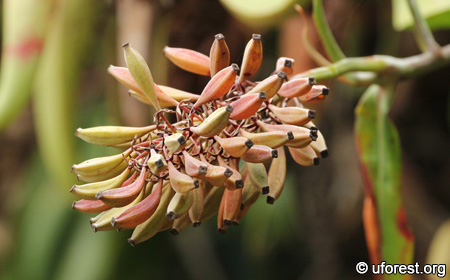 Developing fruits.
References
Chan KL, LMJ Chen, JPS Choo, TL Koh, TM Leong, PKL Ng, HTW Tan, WK Tan & CL Wong. (1997) A Guide to the Carnivorous Plants of Singapore. Singapore Science Centre, Singapore. 176 pp.
Grafe T, CR Schöner, G Kerth, A Junaidi & MG Schöner. (2011) A novel resource-service mutualism between bats and pitcher plants. Biology Letters, 7: 436-439.
Author: Jake
Posted: 2012-10-06 / Modified: 2019-08-27