Etymology
Genus
Roofed; referring to the complete indusium
Species
Singapore, from where it was first described
Family
Dryopteridaceae
Synonyms
Tectaria singaporeana (Wall. ex Hook. & Grev.) Copel.
Common Names
Singapore Fern, Paku Biawak
Status
Native: Common
Form
Herb
Native Distribution
Western Malesia
Diagnostics:
Tectaria singaporiana is a common fern in the Bukit Timah and Central Catchment Nature Reserves. At the former, it is especially abundant along slopes adjacent to the main trails.The form consists of just a tuft of fronds from a point. The fronds have distinct and depressed secondary and tertiary veins, the latter running perpendicular to the former. The stalk is thin and black.
Interesting Facts:
The fertile frond is similar in shape but shorter and narrower than the sterile ones (Holttum, 1954).
The Singapore Fern growing on slopes beside a trail in Bukit Timah Nature Reserve.
An individual consisting of a cluster of fronds.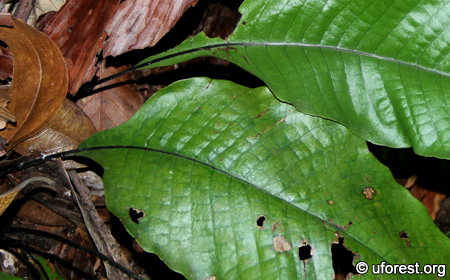 The black leaf stalk, and perpendicular depressed tertiary veins.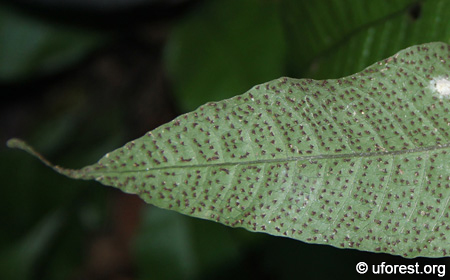 Sora on the underside of a fertile frond.
References
Holttum RE. (1954) A Revised Flora of Malaya. Volume II: Ferns of Malaya. Government Printing Office, Singapore. 643 pp.
Author: Jake
Posted: 2012-04-22 / Modified: 2017-12-25