Diagnostics:
Nepenthes x hookerana has a long petiole like Nepenthes rafflesiana, and also reddish hairs on the leaves like Nepenthes ampullaria. The pitchers look similar to Nepenthes rafflesiana with maroon speckles, but smaller. The neck of the pitchers is also shorter.
Interesting Facts:
The Hooker's Pitcher Plant is a hybrid of Nepenthes ampullaria and Nepenthes rafflesiana. As a result, this species contains characteristics from both plants.

It can be found in Kent Ridge Park (Chan KL et al., 1997).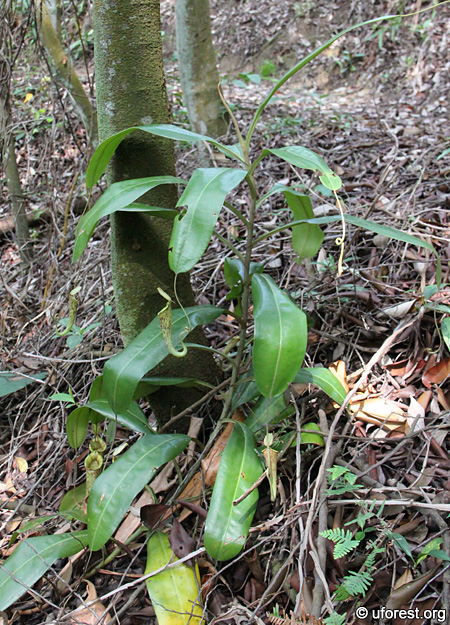 A climbing vine with upper pitchers.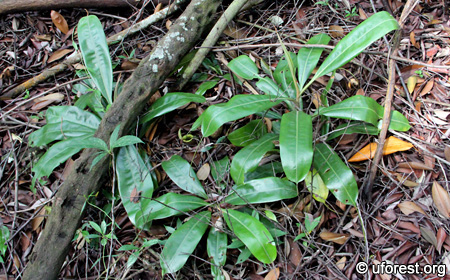 A small mass of Hooker's Pitcher Plant.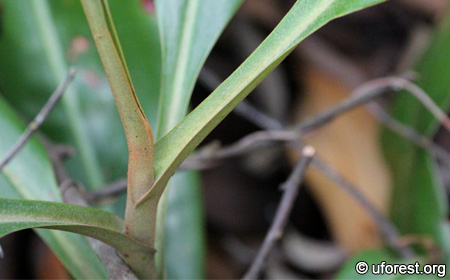 Long winged petiole similar to Nepenthes rafflesiana.
References
Chan KL, LMJ Chen, JPS Choo, TL Koh, TM Leong, PKL Ng, HTW Tan, WK Tan & CL Wong. (1997) A Guide to the Carnivorous Plants of Singapore. Singapore Science Centre, Singapore. 176 pp.
Author: Jake
Posted: 2017-11-01 / Modified: 2019-08-27